The Craxton Family
Antony Craxton
Obituary, The Times, Friday June 25 1999
Antony Craxton, CVO, BBC television producer, died on June 21 aged 81. He was born on April 23, 1918.
A legend in television outside broadcasting, Antony Craxton will probably be best remembered for his poignant coverage of the state funeral of Sir Winston Churchill in 1965. From the early 1950s he had been setting the standard, and he went on doing so until 1977 as the producer responsible for the coverage of many staged national events and sporting occasions that were seen by viewers in Britain and around the world.
A man of style, integrity and sensitivity, he produced the first of the Queen's televised Christmas messages, and ten subsequently. But as well as specialising in royal events, he turned his skills to the coverage of cricket, rugby and golf, sports about which he was passionate, while his musical background made him a successful pioneer in the presentation of classical music on television at a time when purists regarded this as a contradiction in terms.
The second son of the eminent pianist and teacher Harold Craxton, Antony had a chequered education. He ran away from various schools but benefited from time at St George's Chapel Choir School, Windsor, the Royal Academy of Music and Gordonstoun - the last of which, he later said, was too remote to abscond from.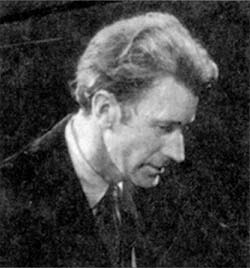 After a brief period with Boosey & Hawkes, the music publishers, he joined BBC Radio as a programme engineer in 1941 and the following year he became an announcer on the Home and Overseas Service. A period as a radio producer followed before his move in 1947 to the recruitment department ia BBC Television, where he was responsible for many appointments to the expanding television service, including that of Richard Baker, who was later to commentate on the coverage of the investiture of the Prince of Wales, which Craxton produced.
Television outside broadcasting was a particularly stimulating area at this time, staffed by a group of young men and women who considered no challenge impossible. Craxton joined them in 1950 and his talent for directing and producing was soon apparent. His programmes ranged from the first televising of the Ryder Cup and cricket Test matches to imaginative coverage of opera from Glyndeboume, the visit of the Soviet leaders Bulganin and Khrushchev, to a live programme from the London sewers which he titled "Up the pipe and down the drain" (BBC mandarins made him change the title at the last minute).
State visits, many events involving the Queen and the Royal Family and the Duke of Edinburgh's first television programme, Around the World in Forty Minutes, led to Craxton's being formally appointed the BBC's Royal Producer, in which capacity he produced the Queen's first televised Christmas broadcast in 1957. He continued in that role until1968, when he was appointed MVO.
Craxton naturally had to work closely with many organisations and authorities, and his charm and easy persuasiveness did much to win concessions, not least from Buckingham Palace. His personal charm helped to give the BBC a lasting ascendancy in his field over ITV, which he would always refer to, much to his rivals' annoyance, as "commercial".
He produced more than 150 classical concerts on television, building great rapport with international artists including Ashkenazy, Menuhin, Rostropovich, Klemperer, Britten and Giulini.
Craxton introduced the first cameras within the orchestra, and hesitantly suggested to Sir Malcolm Sargent that there should be a camera facing the conductor. "We will cover the red light so you won't know when you are on," he said. "Don't you dare," was the reply.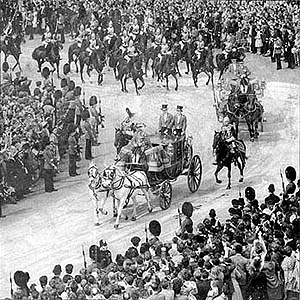 The wedding of Princess Margaret and Anthony Armstrong-Jones: a triumph of BBC outside broadcasting. Photo © The TimesCraxton's logistical ability was well demonstrated by the televising of the wedding of Princess Margaret in 1960, but the commentary sounded awkward, with a different voice emanating from each outside broadcast unit on the route. So for Princess Alexandra's wedding only one commentator, Richard Dimbleby, was used. Positioned behind Craxton in the television control room at Westminster Abbey, where he could see all the incoming pictures from various cameras, Dimbleby gave a perfect commentary "off tube", a technique used to this day. This production won an award from the Guild of Producers and Directors, the forerunner of Bafta.
A close relationship between director and commentator is essential in live television, and that between Craxton and Dimbleby was especially effective at Churchill's funeral. This partnership, too, had been put to the test by Princess Margaret's wedding. The Princess and her new husband were to honeymoon on the Royal Yacht Britannia, leaving from Tower Pier in London. Enthusiastic crowds delayed their arrival by 45 minutes, during which time Craxton and Dimbleby were on the air with nothing to show but the ship and shots of the London skyline, but the result was an informative if unscripted programme about the Pool of London.
By 1969 royal events were staged with the needs of television fully in mind. The investiture of the Prince of Wales not only saw very close co-operation between the Earl of Snowdon as the event producer and Craxton as television producer, but was the first important royal occasion to be televised in colour.
Commentators and camera crews held Craxton in great respect. His camera direction was both unusually daring and unusually restrained. He studiously avoided technical knowledge, believing it better to ask the engineers to fix a camera in a particularly awkward spot than to tell them how to do their job. This technique never failed, and he would always get more from his crew than colleagues could. He never raised his voice and always gave the impression of calm when directing on great occasions, though he was sometimes physically ill with nerves shortly beforehand.
Occasionally prone to vanity, he was known for acquiring a suntan at the first opportunity, and could be found lying on his office floor by the open window on hot summer days, much to the consternation of his bosses. He understood the rules of the BBC, and would always listen courteously to programme controllers, but he would then do programmes his own way, and the results nearly always vindicated him.
A tall and sartorially elegant man, he was often to he seen striding around ceremonial London with a small team of people in tow as he enthusiastically laid plans for a forthcoming event. The celebration of the Queen's Silver Jubilee in 1977 was his 200th royal programme and his last before retirement. He was advanced to CVO in that year.
Antony Craxton was married in 1944, but divorced in 1978. He is survived by a son and a daughter.